HOME

Welcome to Oaxaca!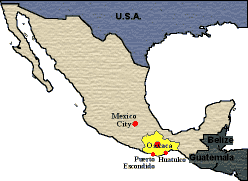 It has peaks almost 10,000 feet (more than 3,000 metres) high, caverns among the deepest in the world, virgin beaches, hidden jungles, and luminous valleys that house populations where, as a crucible, cultures of all people who once lived in its midst come together.


Oaxaca, the State Capital, declared Humanity's Cultural Patrimony by UNESCO, owes its fame to the beauty and harmony of its architecture, the richness of its cultural traditions, the wide variety of its typical foods, and its soft temperate climate, spring-like throughout the year.

This Award-winning comprehensive Tourist Guide contains all the information you will ever need about Oaxaca. With more than 1000 photographs and 400 pages of text it describes all the natural and cultural attractions the city and state of Oaxaca have to offer. You will also find travelogues from other visitors, an up-to-the-minute weather forecast, maps, travel tips and much more!
Before leaving please sign our Guestbook, and when you return from Oaxaca feel free to send us your travelogue. For now I wish you a...
Buen Viaje!

Sincerely yours,



Juan Antonio Ruiz Zwollo
OAXACA's Webmaster
Feedback Form